Those looking for a family-friendly trip that offers something unique rather than watching movies or restaurants can book a desert safari Dubai tour without a second doubt. 
You may know Dubai for its city lifestyle and modern infrastructure consisting of buildings, shopping malls, and entertainment centers, but it offers so much more than that. Just outside the city center lies a vast desert which offers an exciting journey of desert safari that happens to take away all your worries along with memorable moments that you can cherish later on. 
Come with us as we take you on a magical journey of desert safari in Dubai and convince you to try it once in your life. 
What is Desert Safari Adventure?
Some people consider the desert a barren land with no resources and little to no population, but that's not true at all. Arabian deserts were home to local tribes for centuries before the discovery of oil, and people lived here for generations.
Today, despite having all the latest amenities and the most developed cities in the world, the locals have kept their traditions and cultural spirit alive through desert safari adventures.
Tourists come here to experience the hospitality of Beduions and explore the region in a thrilling manner on dune buggy rental Dubai rides, quad biking, and camel rides. Those not interested in such activities can stay at the campsite and enjoy traditional dance shows, local cuisines, hot air balloon rides, and much more. Hence, a safari adventure caters to the needs of every one according to their preferences.
What Do You Experience at Desert Safari?
Desert safari tour offers multifaceted experiences ranging from cultural adventures to relaxing ones. You can choose from several packages from local tour operators, each offering something unique. Here are the key activities offered at the desert safari trip. 
Dubai's desert safari is renowned for its dune-bashing experience, which involves driving through huge dunes for 30 minutes. Amidst the uneven and ever-changing terrain, you can expect fast speeds and thrilling turns. It offers a taste of adventure and a superb escape from the bustling metropolis of Dubai.
Dune bashing is done in brand new models of land cruisers or Range Rover, and an expert driver is at your service to give you the best tour of the desert region. Beware, this ride is not for the faint-hearted. 
After the dune bashing session, we recommend trying the next adventure dune buggy rental Dubai ride. It is somewhat similar to dune bashing but even more exciting. You can drive the vehicle and explore the desert at your own pace. Dune buggies are special vehicles designed for off-roading activities and are equipped with all the latest features to ensure the driver's safety. 
Dune Buggy Rental DXB provides the best packages for buggy rides that can cater to the needs of everyone. For more information regarding the tour, please contact us on the number provided and talk with our representatives. 
If your hunger for adventure is still not fulfilled after dune bashing and dune buggy rides, you can also book quad bike rides. Take 350cc quad bikes across the dunes for a feeling of open air. The ride through the uneven terrain allows you to admire the sea of Arabian sand surrounding you. Professionals will guide you throughout the experience and provide you with safety equipment.
You can view sunrise or sunset in the desert, depending on the type of safari you have chosen. A desert safari in the morning will allow you to witness the sun rising over the dunes and filling them with a beautiful golden glow.
However, the evening desert safari will give you a stunning view of a beautiful sunset. Sunsets and sunrises in the desert are both stunning and provide great opportunities for photography and capturing memorable moments. 
Remember that sunrise/sunset views in the desert are pure magic and cannot be missed. These views are not something you can witness in the city.  
Sandboarding is another fun and adventure activity you can engage in besides quad biking and buggy riding. It is comparable to snowboarding but is done in a completely different environment. 
Try it, and you will be hooked! You will learn some new skills the more you practice on surfboards. 
It is time to take a break from adventure activities and try something relaxing, which you can find on camel riding. This century-old tradition is an important part of Arab culture when people used to travel on majestic creatures, and the locals have managed to keep their spirits alive, which the visitors and tourists can enjoy. 
Take these animals on a 30-minute ride across the desert and stop at the top of the dunes to capture the scenery you witness.  
Take part in the live henna painting demonstration provided by the masters of the art in Dubai! In addition to thrills and breathtaking views, henna painting is one of the many cultural things you can experience while on a desert safari in Dubai. The practice has become a modern beauty statement rather than just bringing luck to nuptials. Visitors to the city are welcome to experience henna painting during their stay. 
After all the fun and excitement of the day, you'll be famished, so a delicious barbecue dinner is just the thing! You may also drink Arabian coffee and consume some sweets after your journey to further energize yourself. Additionally, you may try smoking shisha, an instrument used to heat or vaporize tobacco, and then smoke it.
Dubai offers a truly unique experience when it comes to hot air ballooning. Luxury hot air balloon rides over the Arabian Desert are a must-do for Dubai Honeymoon packages. With the Hajar Mountains as a backdrop, Dubai offers a stunning view of the desert, as the golden dunes of sand change color with the changing light. 
With a flight of 4,000 feet above the desert, the spectacular city of Dubai is visible from all angles. During such a journey, you are certain to capture the most extraordinary photographs. Even though hot air ballooning is an adventure activity, it is also a peaceful and serene experience.
Tanoura and belly dancing show
A belly dancing show performed during a desert safari offers another exciting cultural experience. These shows showcase the mesmerizing traditional dances of Middle Eastern and North African cultures. 
An important component of the show is the tanoura (meaning "skirt"), a dance that is traditional in Islamic countries. Some colorful costumes and movements are associated with Tanoura, which symbolizes honoring nature.
It is, without a doubt, the best night experience in Dubai that Desert Safari offers. The Arabian Desert offers spectacular night sky views and celestial events after sunset. You will enjoy Arabian coffee and complementary treats during your desert camping experience. 
Nothing is better than a relaxing night in the desert beneath the canopy of stars to help you unwind after a stressful day. All the camping facilities are provided in the desert for comfort, and you don't have to worry about anything else. 
Types of Desert Safari Tours You Can Book For Your Vacations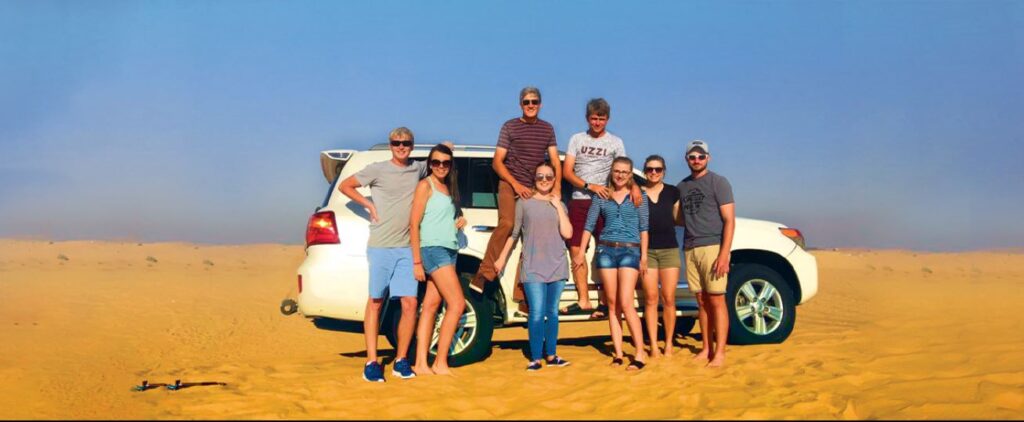 Here are the types of desert safari tours you can book on your vacations 
Early Morning Desert Safari
For someone who is a morning person, this is a fantastic deal. This package is ideal for early risers who enjoy the serenity of dawn and sunrise. Watching the sun rise slowly, and the dawn creep in as the sky glows with golden hues is a truly enchanting experience. Sunrise illuminates the dunes, making them appear serene. One may engage in various adventurous activities on a morning safari ride, such as sandboarding and dune-bashing. Due to the presence of some experts, it is not very frightening or risky.
Visitors participating in other night-time activities may not have enough time in the evening or at night. For such tourists, a daytime safari is a good option. It does not require you to rise too early for this activity nor that you keep your evenings free. If you have time, you may wish to take a quick morning safari before you complete your other activities. 
As not many other activities occur in the morning, tourists can enjoy desert safaris without interfering with their other activities. When you go on a morning safari, you can participate in sports such as quad bike riding, sandboarding, sand skiing, animal viewing, or hot air balloon rides. Safaris can be arranged in the early morning or during the day if you wish to avoid spending the night camping and eating.
Those who wish to create unforgettable memories with their families on vacation should participate in the evening Desert Safari if they wish to fall in love with the paradise called Dubai. As a result, you can witness the desert of Dubai in its most majestic state. As the sun sets and the sky turns reddish, it is breathtaking. This is an experience that is out of this world. 
The evenings also provide the most beautiful photo opportunities with a backdrop of the glowing crimson sun and the painted skies. 
On the evening Safari, visitors can ride hot air balloons and engage in dune-bashing activities. Consider the experience of slowly ascending in a hot-air balloon over the endless sky while taking in the beautiful hues of the sunset. That is so beautiful! There is no better time to ride a hot air balloon than in the evening.
There is an adventurous vibe to the night itself. The overnight safari is one of the most thrilling safari experiences, and brave-hearts who are seeking adventure should give it a try. In the cold, spine-chilling darkness of the desert, you can camp, sleep in tents, and explore the desert at night through tents. What an exciting experience! 
The adrenaline rush and goosebumps are something you would like to experience during this trip. There are a variety of fun activities and events that occur during overnight safaris. Some activities include camel rides, sand skiing, dune bugging, Henna art, barbecues, meals, camping, and belly dancing. After all this, you will have the opportunity to sleep in your tent with your fuzzy blanket.
Tips to Prepare For the Desert Safari Adventure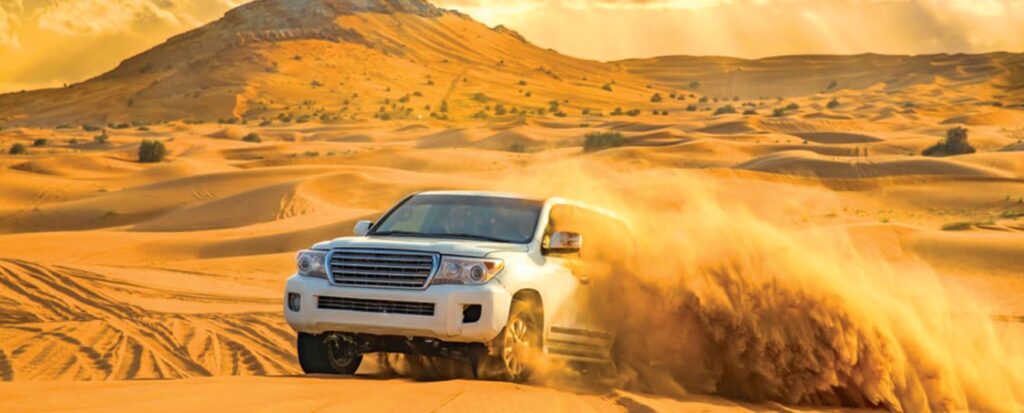 Here are some tips for making the most out of an excursion on a desert safari.
Take Precautions Against the Harmful Effects of the Sun's Rays
Sunscreen should always be applied before leaving your hotel room. Since most desert safari tours are in the open desert, those engaging in adventure activities like dune buggy rides and quad biking should consider this precaution. 
Also, you cannot resist capturing the beauty of the desert on foot. It's better to come prepared.  Morning and Evening desert safaris expose you most to the sun. 
However, you should also wear sunglasses in addition to sunblock. For extra protection against dust and sand, get a bandana to cover your face if it is not too much trouble. 
You won't believe what you'll see in the desert when you visit sand dunes. You can't resist taking a picture of the view because it will take your breath away. So ensure you have spare batteries and your camera is fully charged.
Respect the Environment and Local Laws 
Dubai desert area is home to many wildlife species, and you must ensure that you don't harm them during your safari tour and ask your family to do the same. Also, don't litter in the open areas, and dispose of any trash you may have in the dust bins provided. 
Further, read the sign boards and obey the rules written on them. Violating these rules may result in a hefty fine or even legal action. 
Dubai desert temperatures are abnormally hot, and you must drink water consistently to ensure your body is hydrated and you don't suffer heat strokes. Bring a water bottle along on adventure activities, and further at the campsite, there will be plenty of refreshments that you can devour later on. 
Disconnect From the Outside World 
It is best to disconnect yourself from the digital world, enjoy the peaceful environment of the desert, and relax your mind. Turn off your mobile phones, forget about your job or business dealings and bond with your family. 
The Desert Safari Dubai involves various fun and exciting activities, allowing visitors to experience something new and unique. The best time to try desert safari adventure is the winter months, from November to April.
For more information and advance on desert safari tours and packages, please contact Dune Buggy Rental DXB and get early discounts.