The Dune Buggy rental Dubai is an exciting desert adventure that every visitor to Dubai wants to experience. Feel like a pro as you roar across the sands of Dubai in a powerful desert buggy. You will be picked up from your hotel and transported comfortably to the desert site on the Dubai Dune Buggy tour. The instructor will briefly introduce the dune buggy ride along with safety precautions for your excursion.
After learning the rules of off-road driving, you will receive all the appropriate equipment and the keys to your desert buggy. 
You will experience the thrill of an adrenaline rush as you climb and descend the challenging dunes with trained guides. Between each round, take a moment to breathe and enjoy some soft refreshments. Even the experience of destroying the dunes in the vast desert on one's own is unmatched. 
These are just a few things that make the dune buggy Dubai ride so exciting and memorable; let's discuss why you should try this tour in detail.
What Makes Dune Buggy Rental in Dubai a Memorable Tour?
The best way to experience Dubai's wonders is to rent a dune buggy and head out into the desert. With the guided tour, you can experience a side of Dubai that you would not otherwise be able to see.
An exciting dune buggy rental in Dubai tour will make your vacation memorable.
Discover the Area and Learn Something New
Mostly, expert guides lead dune buggy excursions. Their pride in the Dubai desert is evident in the wide array of interesting sights they can display. Aside from showing you fascinating sights, they will also tell you about the region's history, how their ancestors lived, and how they keep the tradition alive. 
Enjoy The Scenic Beauty of The Desert 
Most dune buggy Dubai tours include scenic points in the desert where visitors can stop for refreshments and observe the region's natural beauty. Plus, here, you also get the opportunity to capture some stunning photographs that you can keep for your memories.  

Let Off Some Steam With this Fun Activity
The dune buggy Dubai tours are great if you enjoy speed and fast turns. You can cut loose and enjoy yourself fully in a dune buggy. Getting out into nature allows you to let off steam and express your wild side in an impossible way in a city setting.
Experience Adrenaline-Pumping Speed 
During the dune buggy ride, you can release your inner speed demon as the vehicle's engine is revved, and you zoom across the desert. Navigate open stretches and experience the sheer power of the vehicle as you feel the wind in your hair and the thrill of speed.
Enjoy Cultural Experiences and Traditions
You can combine dune buggy tours with cultural activities and book a complete package of desert safari tours. These activities include staying at Bedouin camps for cuisine, camel riding, trying out Arabic outfits for photographs, and enjoying cultural shows and dances. 
View Spectacular Sunset Behind Towering Dunes 
Witness the first-hand beauty of sunset in the desert on your dune buggy rental Dubai tour. See, as the sun drops, it transforms the dunes into a golden color. This is a view that is impossible to find in a city. Remember to capture it on your camera so you might come back to enjoy it again. 
Offers a Unique Driving Experience  
The experience of riding a dune buggy is incredibly exciting and risky, something you could never have in a car driving on a road. The desert terrain is very challenging, and as you drive 
you gain confidence in your abilities, you will feel a sense of accomplishment. 
After completing the dune buggy Dubai tour, you will feel more energized and alive. After your trip, you will want to get back in a dune buggy and go back into the desert.
An exciting dune buggy rental in Dubai tour will make your vacation memorable.
How to Get Started With Dune Buggy Rental Dubai Adventure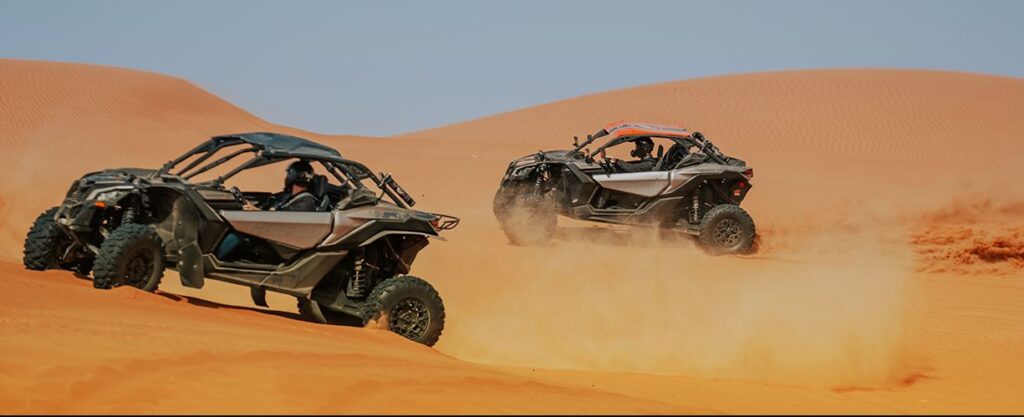 Choose a Rental Service and Tour Options
Don't worry if you do not own a desert dune buggy but are eager to try it out; today, several tour operators offer these vehicles on rent that you can book and take out for an adventure ride. 
It's important to research before booking a dune buggy Dubai tour and always book from a reputable company with a good track record of customer satisfaction and appropriate safety standards. For this, you can read online reviews on company websites and ask for recommendations from your family and friends if they have been on such a tour before and which rental company would they recommend. 
If you are going for the first time, we suggest you book a guided tour led by an experienced professional. These guides will help you learn the basics of a buggy and get familiar with the terrain where you will be driving. Further, they will stay with you throughout the ride to ensure you don't encounter any problems and remain safe. 
Getting to Know the Basics of The Buggy
For beginners, it is important to familiarize yourself with the basic dune buggy controls before heading out into the desert. Despite their agility, these vehicles can be difficult to maneuver, so it is essential to understand their unique characteristics and how they should be handled.
As mentioned in guided tours, you will receive learning lessons about driving the buggy, including its throttling, braking, and steering. Further, you will be taught how to climb a tall dune or make sharp turns. Also, taking the buggy for a practice session before the tour begins is a good idea.
Why Should You Book From Dune Buggy Rental DXB?
Dune Buggy Rental DXB is more than a regular rental company; we aim to create unique experiences that combine the thrill of dune bashing with Dubai's luxury. With our high-end buggies, we aim to ensure that your off-road experience is as enjoyable as it is safe.
Personalized Adventure Packages
Everyone wants a vacation they can enjoy as they wish, and Dune Buggy Rental DXB prioritizes customer demands. We provide various customizable packages that can be tailored to meet your individual needs. Whether you are an expert, a beginner, or someone who wants to try something quickly, we offer a package that will suit you. 
If you want to explore hidden trails, climb mountains, or stroll through the desert and enjoy the scenery, we've got you covered.
Undoubtedly, off-roading is hell of fun, but it requires appropriate safety measures in case of a mishap. To ensure the safety of our guests, we provide you with the highest quality safety equipment that helps to protect you during the ride, and further, all of our buggies are equipped with roll cages and seat belts to ensure your safety while driving. 
We maintain our buggies in top-notch quality and do regular maintenance checks to ensure no faults in the engine, suspension, or braking systems.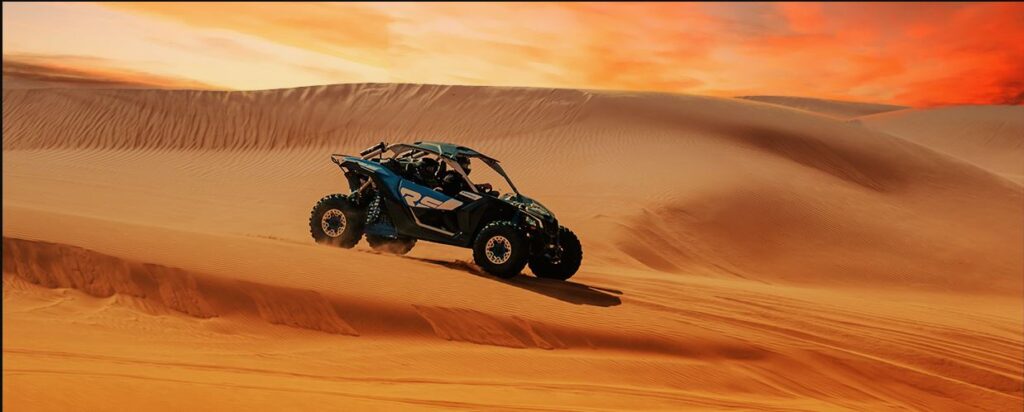 Pickup and Dropoff Service 
We offer a one-time pickup and drop-off service from your hotel to the desert location where the tour is conducted to ensure a smooth start to your trip. Call us to confirm your booking and the location from where you want to be picked up and later dropped off. 
The location can be your hotel, house, or any place located within the premises of Dubai city. 
Added Luxuries in the Package
In contrast to other tour operators in the city, Dune Buggy Rental DXB offers a variety of added luxuries in the packages. Various refreshments will be provided in your vehicle to keep you hydrated during your trip. Besides offering guided tours and action photography, we also provide gourmet picnic baskets to elevate your desert experience.
Preparing For The Dune Buggy Rental Expedition
A dune buggy tour seems fun and adventurous, but that doesn't mean you come unprepared. Here are some preparation tips to avoid mishaps and make your trip smooth and enjoyable.
You must wear comfortable, lightweight clothing that can easily move in during a dune excursion. Cotton or linen clothing that does not fit too tightly and allows air to flow through it would be a good option.
Use Sunscreen For Your Skin
Since the sun in Dubai is very intense, applying sunscreen with a high SPF is imperative before you begin your tour and reapplying it throughout the day.
Wear the Safety Equipment Provided
Safety is of utmost importance and cannot be sacrificed. Driving a dune buggy in a challenging terrain can be dangerous, so you must always wear the safety kit your tour operator gives. The kit includes a helmet, goggles, and knee pads.
As you know, the desert climate is hot and dry, so it is recommended that you bring a water bottle and sip it regularly throughout your dune buggy rental Dubai tour. There are regular stops during the tour where you can fill the bottle if needed.
Bring Snacks on Your Tour
A dune buggy tour is physically exhausting and makes you feel tired very quickly. Bringing small snacks like energy bars and fruits along the tour is a good idea to energize your body.
Embarking on a Dune Buggy Tour is an experience beyond mere excitement—an opportunity to immerse yourself in a world of adventure and thrills. From the roaring engines and breathtaking scenery to the off-road excitement and adrenaline-pumping speed, every moment is designed to create truly priceless memories.