Dubai's vast deserts and natural landscapes surrounding the city offer a perfect playground for thrilling and adventurous dune buggy rental Dubai rides. If you are looking for some activity to take your mind off your hectic routine and spend quality time with your family or want to vacation with your friends and colleagues, then the Dune Buggy Dubai excursion is perfect. 
Traversing the high dunes and making sharp turns at high speeds in a buggy is truly memorable, and you must try it once in your lifetime if you crave adventure. If you are booking the tour for the first time, read this article until the end as we explain what dune buggy riding is all about and important tips to remember for this tour. Let's get started.
A dune buggy is a four-wheel drive vehicle designed specifically for driving on rough and sand-covered desert terrain, as opposed to the normal cars that we drive on the road.  
There is more traction on the ground thanks to the large tires and more power behind dune buggies. They are equipped with roll cages and steel handlebars to ensure the driver's safety and comfort. 
Further, there are numerous models of dune buggies, depending on the engine capacity and seating arrangements. 
Tourists and locals can rent dune buggy vehicles from several tour operators today to enjoy their vacations and have a good time. Our team at Dune Buggy Rental DXB can help you rent a dune buggy for your desert adventure; please feel free to get in touch with us for more information.
What Makes Dune Buggies a Thrilling and Fun Escapade?
Now, you might say Dubai has so much more to offer in the city, and we can visit shopping malls and hotels for more fun and entertainment. However, if you want some thrill and fun activity and want to escape city life then dune buggy rental Dubai is what you need. Here are a few reasons why.   
It Offers an Adrenaline Rush to the User
It is an exciting experience to ride a dune buggy along the dunes of Dubai. While driving at high speeds on uneven dunes and navigating tight turns, you will gain a greater appreciation for the beauty of the desert environment. Take some pictures of the scenery while you are there and keep them as a reminder to come back again in the future.
It's Easily Available for Rent
Rental of dune buggy equipment is available in Dubai from a variety of companies that offer services to newcomers and seasoned riders. Moreover, various dune buggies are available to satisfy every customer's desire. Whether you are traveling alone or with a group, we have a dune buggy to meet your needs. 
The 1-seater buggy is available for a single person, and for groups, you can rent 2-seater and 4-seater buggies. 
You Get Several Photographs of Scenery 
It is not unusual for a dune buggy tour to include a scenic stop where you can energize your body, observe the natural beauty of the desert, and breathe fresh air.  Enjoy these photographic opportunities and capture special and fun moments with your family and friends. Therefore, bringing your camera or fully charging your smartphone is advisable before going on a buggy tour. 
It is Suitable For Everyone, Including Kids and Families
Driving a dune buggy does not require any special skills. As part of the Dune Buggy Rental DXB first-time dune buggy experience, you are provided a full set of instructions for operating the buggy and safety equipment. Our guides are responsible for contacting you throughout the trip if the buggy develops some fault and corrects it. 
Further, new people can book guided tours where a guide will remain with you throughout the tour and guide you on the easiest path to follow and what speed limit to maintain. 
360-degree Views of Dune Buggies 
Dune buggies have an open-top design, which allows for an unobstructed view of the desert scenery as you drive around. It's very suitable for clicking pictures while driving and observing the natural landscape around you, and if possible, you can even spot some wildlife animals too, just remember not to harm them.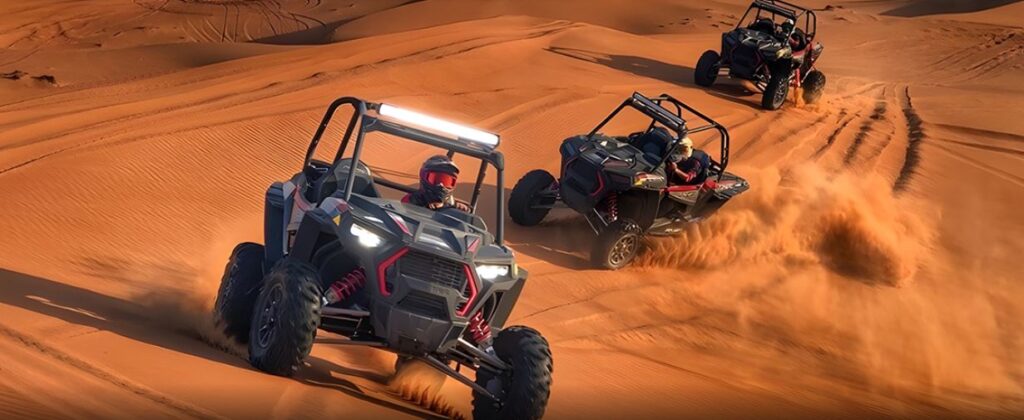 Ideal For Group Experience 
Dune buggies are very suitable for having a fun time with your group. As mentioned, dune buggies are available in 2-seater and 4-seater capacity, ideal for a group adventure. 

Provides a Physical Activity
Dune buggy rides physically engage your body, and having such an activity once in a while is very beneficial for your body. Having such an activity helps you in the following ways:
Boost your memory and brain function (for all ages).

Protect against chronic illnesses.

Help to maintain a healthy weight.

Improve heart health and lower blood pressure.

Get a better night's sleep.

Decrease anxiety and depression.

Dune Buggy Tours Are Adherence to Regulations
Dubai's desert tourism industry is well-regulated, with strict guidelines to protect the environment and ensure the safety of tourists and international visitors. Dune Buggy Rental DXB follows these regulations to ensure that your adventure is fun but also responsible and sustainable. 
Stunning Sunsets and Night Adventures:
Dune buggy tours also offer sunset and nighttime experiences. Book your tour in the early evening to witness the sun setting over the horizon, and with your spouse, it will be even more romantic. So, if you are looking for honeymoon tours, Dune Buggy Dubai is a good choice. 
Nighttime rides under the starry desert sky are also equally amazing; just remember to follow the designated route so you don't get lost. 
How to Rent a Dune Buggy in Dubai?
Now that you understand why the dune buggy rental Dubai trip is an exciting activity for vacations, let's talk about how to rent such a trip:
Choose a Reputable Tour Operator:

As a first step, you must search for a reputable dune buggy rental company in Dubai, like

Dune Buggy Rental DXB

. Search online and read Google reviews to know which company is best. Also, check in with your friends who have been on these tours before to see if they could recommend someone. 
Check Eligibility

: Before final booking, also check your eligibility. Most rental companies require drivers to be at least 18 years old and possess a valid driver's license; some have no such requirements.  
Make a Reservation

: After thorough research, you may have found the most appropriate company for booking the tour. So contact them immediately and make your reservation on your desired date and time. An important advice if you are booking during peak season, usually from October to March, is to book at least 10 days before to get the preferred time slot.   
Safety Briefing:

Listen carefully to the safety briefing when you arrive at the tour location especially if you are trying for the first time. The tour guide will explain safety instructions along with few driving lessons which you must follow. 
Wear Safety Gear

: Safety is of utmost importance in dune buggy rides. Remember to wear the safety equipment provided by the tour operator during the entire course of the ride and never take it down. The equipment includes a helmet, pair of goggles and knee pads. 
Enjoy Your Ride

: After getting safety briefs and wearing the necessary equipment it's time for you to enjoy the ride. Get behind the wheel, start the engine and enjoy the off-roading adventure in the most beautiful deserts in the world.  
Safety Tips for Dune Buggy Rides

Remember some important safety tips to ensure you remain safe and secure on dune buggy Dubai rides. Here is a list of them. 
As you know desert harsh climate causes excessive sweating, therefore you must drink plenty of water to stay hydrated and energized for your dune buggy trip. Carry a water bottle and fill it regularly on the stops along the way. 
The harsh desert sun can be harmful, so apply sunscreen to your face and wear a hat and sunglasses for more protection. Too much exposure to the sun can cause sunburn and fatal health problems in worst-case scenarios, and you don't want that to happen.  
Be on the lookout for wildlife
There are several wildlife species found in the deserts of Dubai. When riding, keep a safe distance from them so you do not disturb or harm them. Observe from a respectful distance.
Navigate slopes with caution
It is important to keep your speed under control whenever you approach slopes to avoid getting stuck in them. Keep a steady pace when ascending and descending to prevent sudden jolts.
Be aware of environmental laws
Always respect the environmental laws of the region and don't leave any trash behind or harm any wildlife animals while you are there. Read the warnings on the sign boards present there and any breaking of such law can result in hefty fine. 
Examine the weather conditions of the area before booking. Check weather apps for any sand or thunderstorms which may ruin the tour. 
Well, this is everything to know regarding Dune Buggy Rental Dubai tours. Remember to follow the safety guidelines and listen carefully to the briefing after arriving at your destination. For any additional information or booking of tours, you can call our 24/7 at Dune Buggy Rental DXB.