If you are looking for an off-road adventure with your friends and family, then without any doubt, dune buggy rental Dubai is ideal for you. The tour takes place in the desert, far away from the hustle and bustle of the city. You get to enjoy the desert's stunning beauty while spending time with your family, which removes all your work exhaustion and fatigue. 
Nevertheless, driving a dune buggy in harsh desert conditions is not a walk in the park. You need some practice and safety precautions to protect yourself from any injury if you are a beginner. To get you started on your dune buggy Dubai trip, here are some helpful tips you must remember, so be sure to read this guide till the end.
What Is Dune Buggy Adventure in Dubai?
Everyone knows Dubai's main attractions are its rich culture and modern infrastructure in tall buildings like Burj Khalifa, man-made islands Palm Jumeirah Beach, and shopping malls.  Millions visit the city yearly to enjoy its rich culture and indulge in its lifestyle. 
However, these are just city attractions full of noise and buzz; if you want some peace and a serene environment along with some fun activities, then just outside Dubai, the desert stretches for miles where you can find this atmosphere. The desert is the perfect playground for fun and adventurous excursions such as dune buggy rides. 
Several tour operators offer dune buggy rental Dubai in the city. Everyone can enjoy these rides, from an older person to a child. Plus, the Dune buggies have all the necessary safety features to ensure the driver's safety, such as roll cages, handlebars, and oversized tires that provide traction on the rough sandy surface. 
These features come with the buggy, but you must come prepared on your own to ensure more safety. Here are some helpful tips to remember before you embark on your dune buggy Dubai adventure. 
Top 15 Tips for Dune Buggy Tour in Dubai
Below are some helpful tips for preparing for your Dubai dune buggies tour so you can enjoy this thrilling experience to the fullest.

Wear Appropriate Clothing
When dressing for an adventure in the desert, it is essential to wear lightweight, comfortable clothing that allows easy movement. A suitable option would be to wear clothing that is not too tight and allows the body to breathe, such as cotton or linen. Don't wear stretchy clothes, which may get entangled in the buggy's body.  
If you are walking on the sand, it is highly recommended that you wear closed-toe shoes to protect your feet from the hot sand and any debris you may encounter. 
Alternatively, wear a hat or scarf to protect your head and neck from sun rays and sand blowing. You will also remain cool with it as it provides shade and prevents sweat from dripping into your eyes. For more help, our tour guides at Best Dune Buggy Rental DXB will provide all the information you need, so listen to them carefully. 
Apply Sunscreen to Your Skin
Due to the strong sunlight in Dubai, it is necessary to use sunscreen with a high Sun Protection Factor (SPF) before you set out on your tour and to reapply it frequently. As a result, your skin is protected from the harsh effects of the sun. Additionally, it reduces the risk of sunburn and other skin conditions. 
If you don't have sunscreen, bring some cash to buy from a local shop; better safe than sorry. You are on vacation and entertainment; you don't want to treat your sunburns and ruin your whole tour. 
Don't Forget to Bring your Camera
It is hard not to be enchanted by Dubai's stunning desert landscape when you are there. Bring your camera or smartphone to take pictures of the spectacular views. 
If you have the latest iPhone or Google Pixel model, they capture the best photographs, so ensure they are fully charged or bring a power bank to set on the tour. Alternatively, a DSLR also works best; you must check to ensure its batteries are fully charged and bring additional batteries just to be safe.  
Also, consider bringing a camera strap or protective case to ensure your camera remains safe and secure during the tour on the buggy. Additionally, a GoPro camera can be attached to the buggy for recording the whole tour; just ensure it doesn't interfere with vehicle controls while attached. 

Since you know that desert temperatures are very hot, you must take as many precautions as you need. One of the most important precautions is to drink plenty of water during the tour. Bring a water bottle before the tour starts and refill it while on the tour.
Also, as part of your Dune Buggy Rental DXB package, we will provide you with beverages at the campsite so you don't feel thirsty and have a comfortable adventure. Also, several stops exist to refill your water bottle and keep your hydration levels high. 
Listen to Your Tour Guide
Listen to your tour guide and follow their instructions as they say. They have many years of expertise in desert adventures and know all the safest routes and what to do in case of an emergency. For newbie drivers, they can teach them how to drive a buggy with few lessons. 
Plus, they also ensure you remain safe and secure on the tour. If you book a guided tour, they come along on the ride to help you navigate the most accessible desert routes and keep you safe in case of a mishap or fault with a buggy.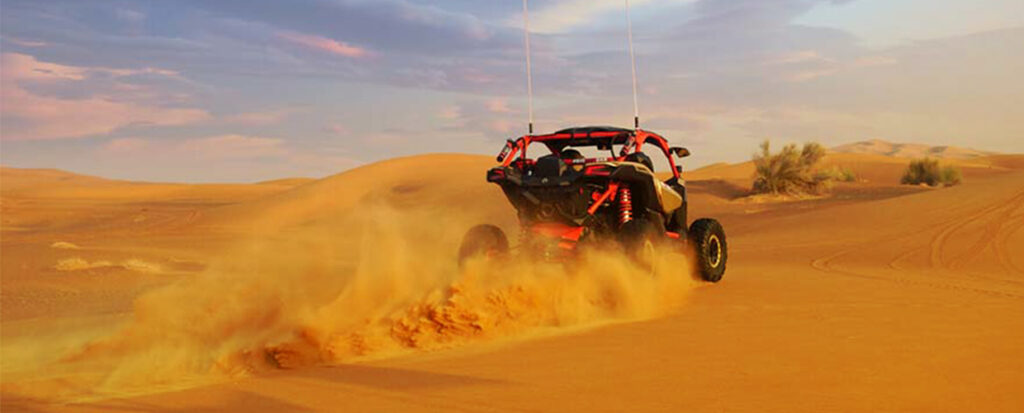 Get to Know the Culture and History of The Region
Dune buggy tours also allow you to learn about the culture and history of Dubai. A few decades ago, Dubai was a barren land and has now transformed into an Urban conglomeration. You can learn how people lived here for centuries, what they ate, and how they got a water supply. This makes your tour more interesting and enjoyable. 
Keep Light Snacks on Hand
Dune adventures can be physically exhausting, so snacks can be essential for staying energized throughout the day. Pack non-perishable snacks such as dried fruit, trail mix, or granola bars to satisfy your hunger during breaks.
Also, remember to light before the dune buggy tour. A heavy meal might make you nauseous and dizzy because you can expect many bumps and turns on the tour. That is why eat light and bring light and small snacks to enjoy on the ride and keep yourself energized. 
Make Sure You Take Breaks Throughout the Day
It is vital to take regular breaks in between off-road adventures to recharge one's energy, as these activities can be demanding on the body physically. The tour guide will likely provide opportunities to take in the scenery, so stretching your legs and getting fresh air is a good idea.
Also, these breaks allow you to capture beautiful photographs of you and your loved ones and the desert scenery; this is where your camera comes into play, as explained above. 
Take Care of the Environment and Desert Ecosystem 
Refraining from leaving trash or litter behind while exploring the desert significantly conserves the natural environment. Be sure to follow your guide's instructions so that you do not damage the delicate ecosystem of the desert.
During the ride, you may encounter some endangered animal species living in the desert; don't harm or injure them. Any violations of the environment that we have mentioned may result in a hefty fine. 
Private Tours are a Great Option
We suggest booking a private dune buggy tour for a more personalized experience. The advantage of booking ahead is that you can customize your trip and receive more personalized service from the guide.
Also, you will have access to your personalized buggy that you don't have to share with any third party. A bonus tip: If you want to take your desert adventure to the next level, experience authentic Arabian hospitality, and explore the desert, you can book a Private Desert Safari tour. This includes camel riding, hot air balloon riding, BBQ dinner at the campsite, nighttime entertainment, and much more. So, give it a thought. 
Although dune buggies may be powerful machines, you must drive them responsibly and safely during your tour. Stay on designated paths and do not drive recklessly because this could endanger you and other drivers who have booked the tour.
If you are a newbie driver, we recommend driving at a safe speed limit on the easiest routes. Ask the tour guide about the safe speed limit and follow it throughout the tour. 
Make Sure the Tour Timing is Appropriate
Paying attention to the tour's timing is essential when scheduling your tour. You might find it better to schedule your Dubai desert tour during the cooler winter months because the desert can get extremely hot during the summer months. Cooler months are from October to March. 
Also, remember during the peak season, you can expect more crowds of people in the desert. To avoid any shortcomings, booking your tour in advance at your desired time of the day is better. 
Avoid Going on The Tour Alone
Bringing a friend or family member along for the dune buggy tour is always good for extra enjoyment, fun, and creating everlasting memories. It's better to bring along someone who has experienced desert adventures, knows what to avoid, and keeps you safe during the tour.     
Also, they come in handy when calling for help in an accident or mishap. 
Before Beginning Your Tour, Examine the Buggy for Any Damage
This is a crucial safety tip, and you must remember it. Before starting your tour, inspect your dune buggy for damages or faulty parts to avoid fatal accidents or mishaps. You can also read online reviews of rental companies before booking the tour to know if previous customers had any problems with their buggy that ruined their entire tour.
You can always test-drive the buggy to ensure it's working correctly. Upon noticing any strange noises from the engine, ask your tour company to arrange another buggy or sort out this buggy problem. Further, you can check that the brakes are working correctly, that the fuel tank is full, and that the handlebars are fully attached with no loose ends. After this thorough inspection, you can begin your tour. 
Our policy is to always maintain our buggies in top-notch condition at Dune Buggy Rental DXB. Our mechanics ensure that the tour is uninterrupted and trouble-free for our customers. If you would like to test the buggy yourself, you are welcome to do so.
The campsite's official photographers charge a small fee for souvenirs, videos, and photographs sold at the dune buggy safari. You can find a good bargain in these places and get a favorable price if you negotiate. You must have some hard cash available to accomplish this. 
We sincerely hope you will have a memorable and safe experience during the dune buggy tour in Dubai. The following 15 tips will help you stay safe and have a unique and enjoyable experience. 
We place a great deal of emphasis on the safety of our guests at Dune Buggy Rental DXB. We strive to ensure that everyone remains safe so that they come back for another tour in the future by providing top-notch safety equipment, vehicles, and safety instructions. Please contact us through the service page for early bookings and reservations.